ONLINE COURSE
Akashic Records Reader Certification Course
LEVEL 1
Do you want to start 2021 with more ease, purpose and clarity?

Or find deeper meaning in your life for aligning better with your higher purpose?


With the Akashic Records Reader Level 1 course we will learn powerful ways to connect with the Akashic Records and learn to receive higher messages to guide us. We will learn ways of developing our natural psychic-intuitive abilities to gain more meaning and fulfillment in our lives.
Starting date
4 January 2021
COURSE STRUCTURE
ABOUT THIS COURSE
The course combines self-study and live group video calls to help you learn the fundamental skills for working in the Akashic Records. In order to fully help you learn these skills, we also include a one-on-one session with either Dave or Marie at the end of the course.


The next course will be a condensed course that takes place over two weekends. It begins on 4 January 2021 for 2 weeks scheduled for European time zones.

Every week two new modules are activated for self-study which is followed by two video calls where we put the theory to practice. You can only miss one of the four calls. In case you have to miss one, we do record them, so you can watch it in the next few days.
COURSE INFORMATION:
Fully-accredited course with a completion certificate
Includes a 55+ page digital handbook
A supportive group to help you accelerate your own learning
Four 3-hour video calls with live Q&A, personal sharing and guidance
Over two hours of recorded meditations with special music for enhancing the Akashic experience
A 30-minute one-on-one session at the end with one of the instructors
WEEKLY MODULES ARE ACTIVATED FOR SELF-STUDY ON MONDAYS
Module 1 and 2: 4 January 2021
Module 3 and 4: 11 January 2021

DATES FOR 3-HOUR LIVE ZOOM CALLS
IN EUROPE:

9 and 10 January: 9:00-12:00 am CET, 8:00-11:00 am WET
16 and 17 January: 9:00-12:00 am CET, 8:00-11:00 am WET

IN INDIA:

9 and 10 January: 1:30-4:30 pm
16 and 17 January: 1:30-4:30 pm

IN BALI AND AUSTRALIA:

9 and 10 January: 4:00-7:00 pm WITA, 7:00-10:00 pm AEDT
16 and 17 January: 4:00-7:00 pm WITA, 7:00-10:00 pm AEDT

TESTIMONIALS
WHAT OUR STUDENTS SAY ABOUT THIS COURSE
I completed the Akashic Reading Intro Course and Level 1. Since then I feel much more aligned with my higher purpose, more at ease and more peaceful. I can recommend this life-changing experience to anyone who is seeking healing and answers from within.
Alissa N.
CO-FOUNDER, NUTRITION COACH
Absolutely mind blowing! Marie, Martin & Dave create a safe space and environment where you can share from the heart. I have gained knowledge that I can apply in my daily life and left with absolute certainty that these tools will help me on my spiritual path of healing, grow and personal development.
Tania Tome
PORTUGAL
Thank you Marie, Dave and Martin. The Akashic Records course was incredible. It still amazes me, when I think about how quickly all of us were able to enter our Records and receive insights about our present life and past lives. Thank you again! I am very much looking forward to Level 2.
Tina-Marie Nielsen
SOUND HEALER
The course has helped me a lot to connect deeper with myself and my closest friends and relatives. By understanding my path and my current situation in life better, I gained strength and confidence. I could finally free myself from old limiting believes that I did not even know about. I am incredibly grateful and would recommend this course to anyone looking for more clarity and ready to change their lives for the better. Thank you, Marie, Dave, and Martin!
Jannis Altmann
CO-FOUNDER BEMORE-UNION
I was undecided if I should take the step to Akashic Records because I have challenges to open my heart. But I dared, and it should be like this. Through the 4-week course, I have gained an even better understanding of myself, my being, and my environment. I feel that the coherence of the brain and the heart can be the most powerful energy of a human being, and I am very grateful for that. I walk through life with a positive attitude (even in negative situations) instead of talking myself into something negative and thus to think negatively. It is not just a course, but helps you create a framework to take your individual steps in the world and know how to do it: It is just right for me! And what more do we want from life? I love the process, not the goal. PS: You get to know inspiring people in the courses and notice a very important thing: You are not alone!
Benjamin Reske
CO-FOUNDER BEMORE-UNION
The Akasha records Level 1 was a very intensive and life-enriching course for me! It has helped me establish a very special connection with myself and gain a new perspective on the different facets of life. Through the schedule and the weekly calls, I was very well supported by Marie, Martin, and David, which helped me a lot to process the new impressions pleasantly. Therefore, I would like to express my biggest thanks at this point and am looking forward to further courses with you!
Regina Zang
CO-FOUNDER BEMORE-UNION
I highly recommend this course to anyone who is curious about knowing more about accessing the Akashic Records. Marie, Martin, and Dave were exceptional facilitators and guided us along in a safe space with open hearts. They gave very practical tools to prepare the group for entering the records and reconfirmed many things I had been doing intuitively and feelings of knowing in past experiences. I now feel more empowered because of this course.
Phoebe Leona
FOUNDER OF NOMAD ALWAYS AT OM & CREATOR OF MVT109TM
I highly recommend the Akashic Records reading Level 1 course for anyone who is ready to take their spiritual journey to the next level. Dave, Marie and Martin do an incredible job explaining concepts in a way that is fun, exciting and hands on. I'm am so happy I decided to take this course and feel so much more at peace and with myself and my purpose. Thank you.
Kelsey Shaffer
CHILD CARE PROVIDER
It was so easy, simple and clear that I was truly astonished: I feel deeply connected with the Akashic Records (already my whole life and now it got a name for it) and it brings a lot of alignment of the variety of my life together. Our group calls were energising and I learned from each of us a lot. I am full of love, joy thanks to Marie, Martin & Dave. They created a whole journey through science, lifeforce and heart-connections for a deeper understanding of life. I can highly recommend the Akashic Records with the Modern Mystics Collective and I am super curious what they will create next.
Salina
INSPIRATION TEACHER FOR HEART INTELLIGENCE
Guaranteed Security using one of the most advanced encrypted systems on the market.
The information in this page is being processed and encrypted securely using industry-leading encryption and fraud prevention tools.
TEACHERS
FACILITATED BY
MAIN TEACHERS:
DAVID KHAN
MARIE RICHTSFELD

GUEST SPEAKER:
MARTIN RICHTSFELD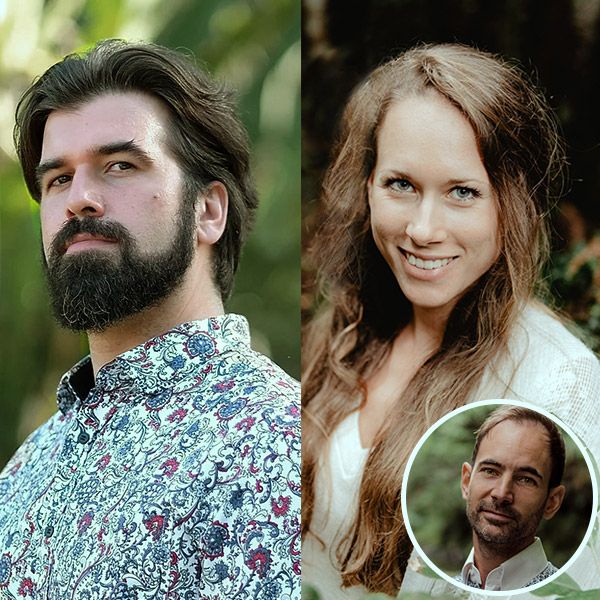 Created with