ONLINE COURSE
Akashic Records Reader Certification Course
LEVEL 2

Are you ready to deepen your connection with the Akashic Records?

Are you ready to share your Akashic connection in reading for others?
Is it time to understand the deeper layers of self-healing and learn about new technologies that enable healing to occur faster and more effectively than in the past. You can learn how to help others in their journey of self-learning and healing.

It is perfect for people that want to study the Akashic Records in greater detail or use it as part of other creative/healing modalities.

This course is intended to take you deeper into the Akashic Records than Level 1. It provides a more in-depth attunement to the Records that is useful for those who want to use this as a regular self-care modality or for those who want to read for others and help them understand the causal forces that operate in their life.

***Scholarships are available to help ensure that financial means are not a limiting factor for studying***
Starting date
22 February 2021
Request Scholarship
reach out to us

Requirement

Level 1 graduation

COURSE STRUCTURE
ABOUT THIS COURSE
The course combines self-study and live group video calls to deepen your connection with the Akashic Records. What we provide you with are techniques that will help you to strengthen your clair abilities to be open to receive during your day. We encourage you to find your unique way to deepen the experience of consciously living for yourself and also to encourage others when you read for them. In order to fully help you learn these skills, we also include a one-on-one session with either Dave or Marie at the end of the course.


The course starts on 22 February 2021 for 3 weeks scheduled for European and American time zones.

The course consists of five modules. Every week two new modules are activated for self-study which is followed by video calls on the weekends where we put the theory to practice. You can only miss one of the five calls. In case you have to miss one, we do record them, so you can watch it in the next few days.
COURSE INFORMATION:
Fully-accredited course with a completion certificate
Includes a 90 pages digital handbook
A supportive group to help you accelerate your own learning
Five 3-hour video calls with live Q&A, personal sharing and guidance
Recorded meditations with special music for enhancing the Akashic experience
Brainwave entrainment tracks with isochronic tones
A 30-minute one-on-one session at the end with one of the instructors
A final project which involves finding a client to complete an Akashic Records Reading for
5 MODULES ARE ACTIVATED FOR SELF-STUDY ON Each MONDAY
Module 1 and 2: 22 February 2021
Module 3 and 4: 1 March 2021
Module 5: 8 March 2021

DATES FOR 3-HOUR LIVE CALLS
IN EUROPE:

27 and 28 February: 2:00-5:00 pm CET, 1:00-4:00 pm WET
6 and 7 March: 2:00-5:00 pm CET, 1:00-4:00 pm WET
13 March: 2:00-5:00 pm CET, 1:00-4:00 pm WET

IN BALI :

27 and 28 February: 9:00 pm-12:00 am WITA
6 and 7 March: 9:00 pm-12:00 am WITA
13 March: 9:00 pm-12:00 am WITA

IN North America:

27 and 28 February: 8:00-11:00 am EST
6 and 7 March: 8:00-11:00 am EST
13 March: 8:00-11:00 am EST

Guaranteed Security using one of the most advanced encrypted systems on the market.
The information in this page is being processed and encrypted securely using industry-leading encryption and fraud prevention tools.
Cancellation Policy: Refunds can be administered within 24 hours of registering. Refunds requested after 24 hours of registration may be given in special instances at the discretion of course instructors.
FACILITATED BY
MAIN TEACHERS:
DAVID KHAN
MARIE RICHTSFELD

GUEST SPEAKER:
MARTIN RICHTSFELD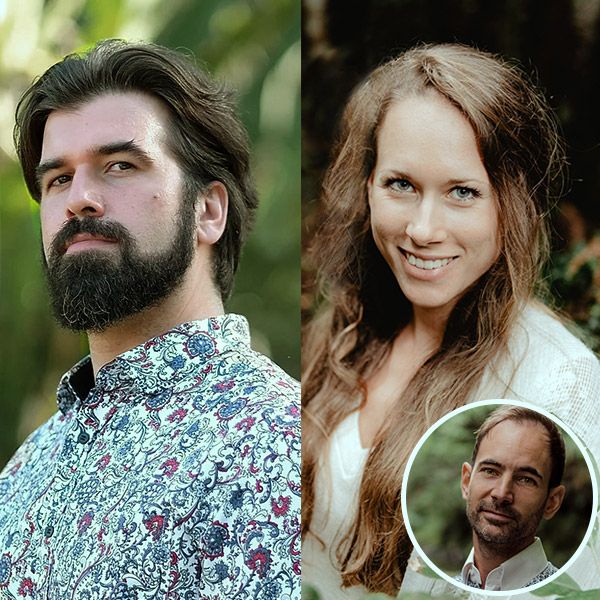 Created with